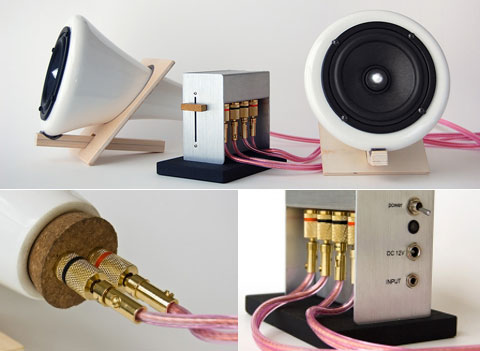 These technically aren't available right this very second*, but you can pre-order them now and receive them in early November.
Typical speakers are designed to play even the most compressed or poorly recorded track. They gloss over the details that give high-resolution music its depth. The Ceramic Speakers' custom-made drivers, porcelain and cork enclosures, and Tripath amplifier reveal every nuance. They will show the difference between lossless and mp3 files, and will unlock vinyl's richness.
System includes: Two ceramic speakers, Amplifier based on the Tripath 2024 T-Amp with gold-plated binding posts, 1/8? input, cast iron base, 16-gauge oxygen-free copper speaker cables with banana plug termination, interconnects for RCA and 1/8? sources
*eff it. If everyone else is going to post these speakers before they are available to buy, then I will too.
Tags: cork