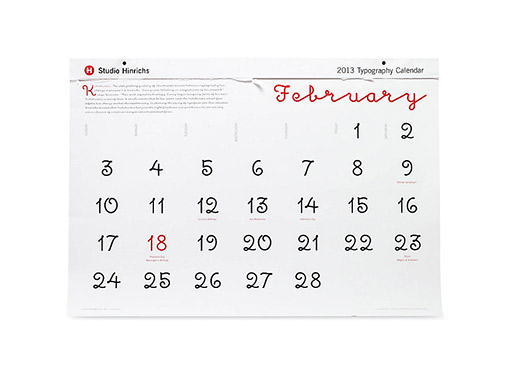 This calendar has been around a while (it used to be called the Pentagram Calendar) but that doesn't diminish the excitement of typography aficionados who are patiently waiting for the 2013 version to hit their desk. Each month features one typeface (chosen by a prominent designer Stefan Sagmeister, Ivan Chermayeff, Tom Geismar, Massimo Vignelli, Michael Vanderbyl, Louise Fili and others, all members of the Alliance Graphique Internationale (AGI)) and includes a description and biography of its designer. The major holidays are noted, and, as hardcore typography fans will be glad to hear, so are the birthdays of the typeface designers.

Calendar stock is produced using electricity generated from a Green-e certified renewable energy source.
Choose from desktop ($28) and wall ($48) versions.
Made in Canada.
Designer: Studio Hinrichs
Available from
DWR
, 28.00 - 48.00.