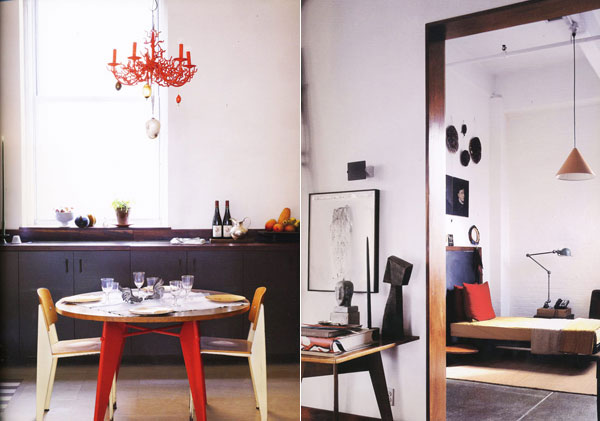 I've been seeing some of these shots around on other blogs and it reminded me of the story I initially saw on LoftLife. Often I veer towards a minimal aesthetic, where I'll pack away all the knicknacks and thingamajigs I've acquired over the years, only to run across photos like these which remind me of how nice a home is when it tells a story. I mean that in a 'collect-stuff-that-you-love' sort of way, not in an 'I-hired-a-designer' sort of way, does that make sense? I think sometimes it's hard to tell in interiors magazines which way that pendulum swings, but in the case of Anita Calero's loft, it just seems obvious that it's all her. Her stuff, her likes, her collections. (Watch someone tell me she hired a designer.)
That's enough of my rambling. Click 'Read More' for more photos (and a little more rambling).
It's almost as if nothing is too perfect, as it would be if it was designer-fied. And below, check out all that Prouve… I hope to own such fabulous mid-century pieces one day.

See more pics via LoftLife.
Tags: mid century, red