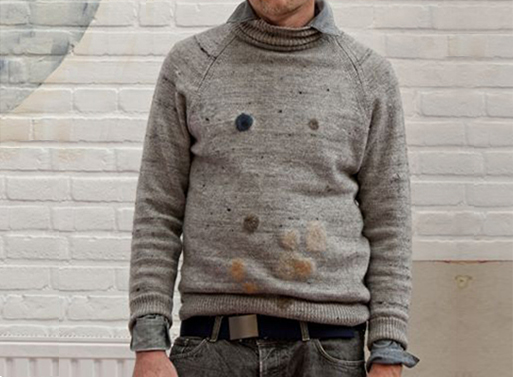 I know it's just the beginning of fall, but may I ask you to assess your sweater collection? And, if, by chance, you find a few holes or stains in your favorite woolen or cashmere item, do not despair, for there's a relatively easy solution found in the Woolfiller kit by Heleen Klopper.
It's easier to show the video (below) than to walk through the instructions, but, trust me, anyone can do this. And, yes, it might be a little quirkier look than you're used to, but I'd encourage you to try it out on at least one piece of clothing, for you'll save yourself the time and money of replacing the item completely. Keep in mind that the patches tend to stand out more when the colors are varied (as shown in the image above), but you can mix or match however you want. Also, don't just stop at sweaters; you can use this kit to repair rugs, curtains, etc.

The DIY kit includes wool fiber, 2 felting needles, 1 foam bloack and instructions.
Woolfiller kit in Black, $37.00
Woolfiller fixes will stay through the wash.
All colors available directly from Sweet Bella (call to order, $37) or you can order the green and purple kits from Uncommon Goods, $37.00.
Available from
Sweet Bella
, 37.00.