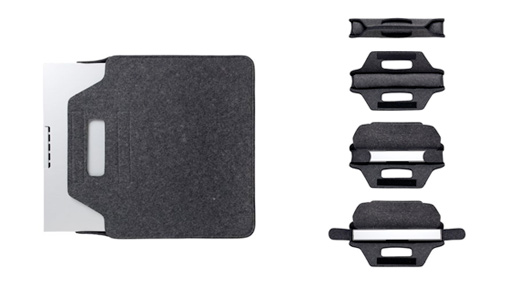 The utilitarian design of this carry case makes me wish I had an important binder to carry around.
Designed as a carry case for the Aluminum Binder, the Wool Felt Binder Case (2007) may also be used on its own as a briefcase, document carrier, portfolio bag or even handbag. The 100% fine wool felt is a quarter-inch thick for maximum protection and exceptional style. With frequent use, the felt will become finer and softer. The hook-and-loop fasteners are durable enough for travel or courier. The landscape format fits European size A3 paper (16.5″x11.75″), while the smaller configuration accommodates A4 or U.S. letter size. Made in Australia.
A3: H 13.75″ W 22.5″ D 2″: $180.00 Now: $153.00
A4: H 13.75″ W 13.75″ D 2″: $150.00 Now: $100.50
(sale through March 18, 2009)

Buy it here.
Tags: felt