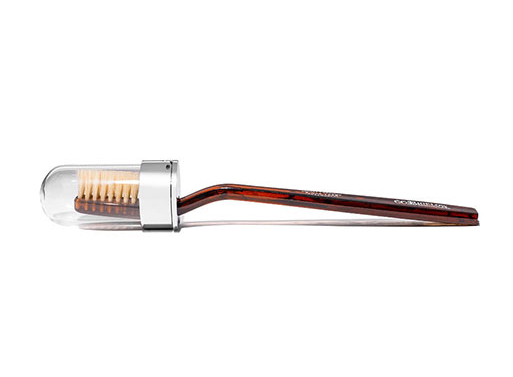 The words 'toothbrush holder' and 'cool' have never belonged in the same sentence, as far as I can tell, but that changes with this particular holder by Cedes Milano. You can also add the word 'expensive' into that mix, as it's not cheap (just warning you). The hinged bottom is chrome plated and it has a tempered glass top with a very small hole to make sure no moisture gets trapped. Does it look cool? Yes. Will it protect your toothbrush? Definitely. Is it a little fussy and a tad pretentious? Maybe. Do you still want it? Don't be embarrassed to say yes.


Designer/Brand: Cedes Milano
Materials: Chrome Plating, Glass
Size: 2" L x 1" Dia
Available from
MAN of the WORLD
, $110.00.
Tags: Gifts, Gifts $100+