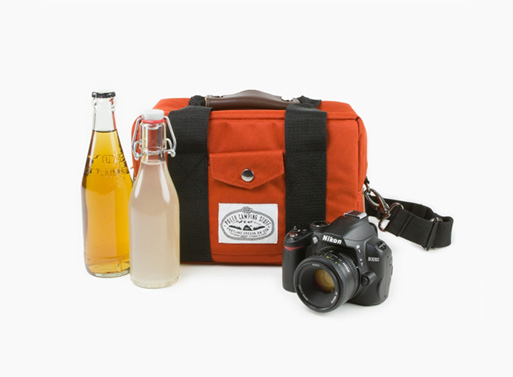 What better way to relax after a long day of shooting than with a nice cold beverage? Too bad your camera bag isn't also a cooler… oh well. Wait, did you say something? There's such a thing?! Indeed, there is, and it's about to change your excursions from being a ho-hum-sort-of-thirsty hell to a I-can-handle-anything-because-I-have-refreshments blissful outing. Or so we hope. A removable insert protects your camera and lenses while the insulated walls will keep your lunch/snacks cool. Just be sure to keep food and drinks separate and securely closed from your gear, because someone (pointing at you) will be unhappy if the two should mix.


Notes:
-Ripstop fabric comes in vintage burnt orange with leather accents and an adjustable, padded shoulder strap.
-Exterior pockets
-Removable insert that protects your gear (will fit a Canon 5D Mk II with an attached 70-200mm lens plus flash).
-Insulated walls will keep your lunch cool (not watertight so use freezer packs instead of real ice)
Available from
Photojojo
, 50.00.