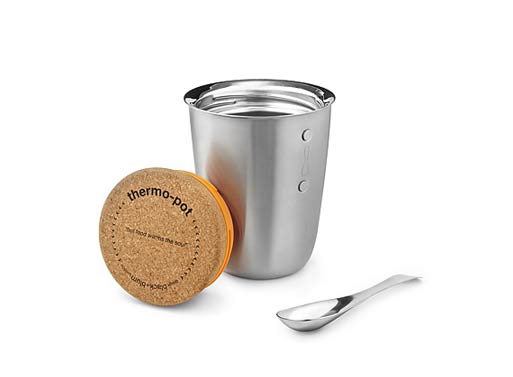 As it's January, most of us will find ourselves huddled around a hot bowl of soup for lunch or dinner. So, of course, let's look again at the Thermo-Pot from Black + Blum. Think of it as an updated thermos; its stainless steel flask keeps drinks/soups/meals hot for up to six hours and an airtight cork capper ensures a vacuum seal. The spoon is magnetically attached to the side for convenience.

From Dan Black and Martin Blum, otherwise known as Black + Blum.
Made in China.
Materials: cork, stainless steel, polypropylene
4.9″ L x 6.7″ W x 4.9″ dia, 17 oz. capacity
Care instructions: hand wash after use.
Available from
Uncommon Goods
, 42.00.