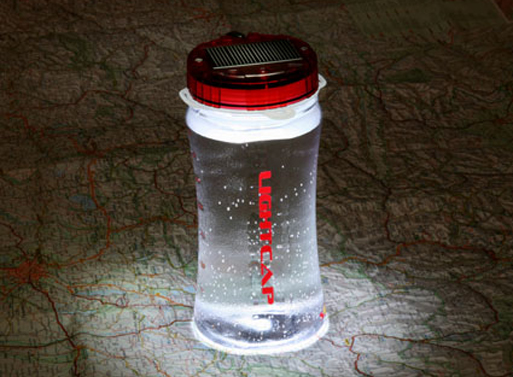 Add some solar power to the top of a water bottle and voilà , you have yourself a lantern. FastSolar technology allows for up to 8 hours of light time and the one liter bottle could also double as a waterproof container for your wallet or cellphone. It'd be perfect for camping, wouldn't it? More details below.


-Materials: BPA free plastic
-Dimensions: 4″ x 8.5″
-Weight: 9.7 ounces for bottle and cap
-Color: Red or black
-4 super bright white LEDs, 1 red LED
-Recessed 3 way switch for white LED, red LED, or off
-FastSolar technology solar charging system; no batteries to replace
-Daylight sensor prevents accidental battery drain
-Sealed charging system stores up to 8 hours of light on full charge
-1 liter wide mouth bottle for easy drinking, cleaning, and storing
-Water tight for use as a storage container
Thanks Kelly for the link!
Available from
Useful Things
, 29.95.
Tags: Gifts, Gifts $26-$50