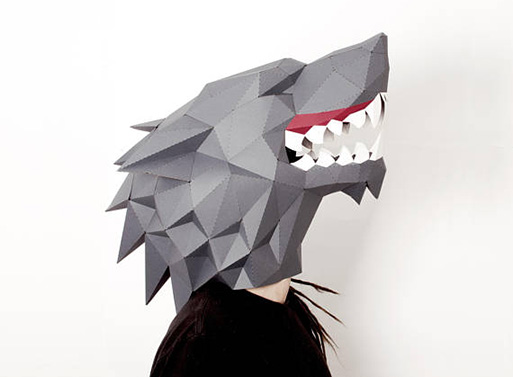 You've seen some paper masks featured here before (Papercraft Masks), and now you've got some more to add to last-minute(ish) costume ideas. SmagaPaperwood has a Wolf, Raccoon, and Crow mask that particularly stand out as good Halloween fare, but there's plenty more to peruse. What you're buying is a digital download of templates with instructions on how to make your own, so don't wait until the very last minute; you'll need about 3-4 hours.

There's also a Direwolf mask papercraft KIT ($35.56) that has pre-cut elements with perforated edges for precise and easy folding.
You get:
– White templates in PDF in A4 or US letter size, so you can use coloured or patterned paper
– Step-by-step instructions
You'll need:
– Printer
– Paper
– Thicker cardboard or paper, if desired
– Glue stick and all-purpose adhesive
– Scissors and a craft knife.
– Some spare time (ABOUT 3-4 HOURS)
Available from
SmagaPaperwood on Etsy
, $7.36+.