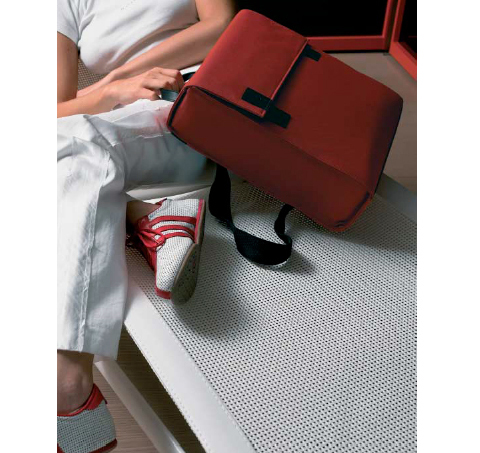 Never underestimate your need for a backpack. I was walking my dogs yesterday and wanted to bring my Treo 650 (too-big-for-pockets) phone. Well, I usually carry my phone in my purse, but ergonomically it makes no sense to attempt to do so while walking a dog. Under normal circumstances a purse rests on your shoulder, but when walking a dog your arm is usually extended, causing straps to slide.
Anyway. A nice little Italian designed backpack would work just fine for a phone, bottled water and any other traveling necessities you may have for a little jaunt around the neighborhood, or wherever you may roam.
"The Cube backpack, crafted in Italy of durable cordura, is sure to transport all your work, school, and life supplies in sleek Italian style.
Available in dark orange cordura, with black leather and canvas straps and accents, the Cube has an easy-to-use fold-over top that secures tightly with industrial velcro.
Inside, a shiny olive gray interior is outfitted with one good-sized zipper pocket, a cell phone pouch, two pen pockets, and two credit card or ID pockets. Interior contents are quick to access because the cordura stiff "cube" holds its shape naturally eliminating the material folds in a typical backpack in which something is always getting lost."
14″ tall, 11″ wide, by 4″deep.