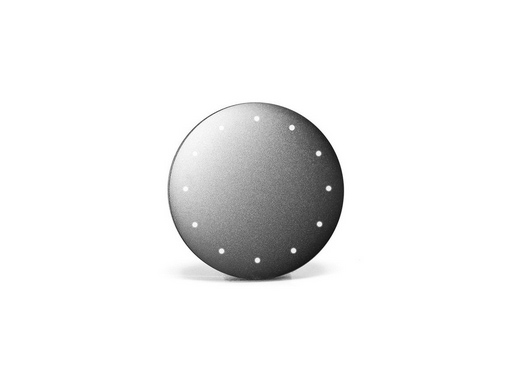 If you're the type that enjoys tracking your movement and activities, you'll want to know about the Misfit Shine. There's a lot of fitness trackers to choose from nowadays, and the Shine stands apart for its size (slightly larger than a quarter), ease of use, no charging needed (it has a battery), and overall pleasing visage. It's also water-resistant up to 50 meters- perfect for those swimmers among us.
The magnetic clip-on ring allows you to easily wear it in multiple places- on your shirt, pocket, sock, etc.- or you can wear it on a wrist band or necklace. I wore one for a few days to try it out and, thankfully, it doesn't look like an obvious fitness tracker. It's small enough to fit in a pocket or clip on to your clothing without being too bulky. It won't show you your exact steps in numbers, which I rather miss as I'm used to a Fitbit, but you do see your progress via a halo of LED lights. It's an elegant, minimal solution for a tracker, and, of course, the corresponding Shine app on your smartphone will store your overall progress per day/week. See the video below, or visit Misfit Wearables for more info.


Sport Band and Clasp included.
-Water-resistant up to 50 meters
-Interchangeable battery lasts up to 4 months without charging
-Connects with your iPhone and BLE (Bluetooth Low Energy) to gather all relevant details from your daily activities
Available at: Best Buy, Apple Stores and misfitwearables.com.
Tags: Gifts, Gifts $100+