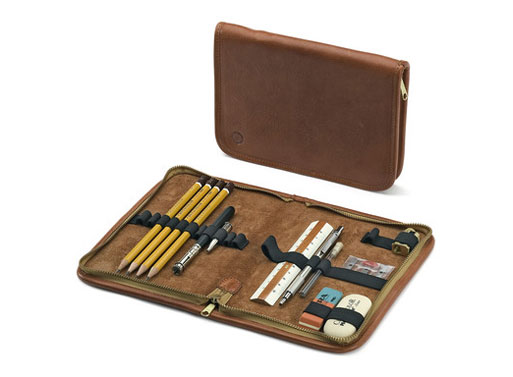 If you still prefer the pen/pencil writing method rather than the clickity clack of keyboard strokes, take a look at this beauty. The case is crafted from Bavarian cowhide and comes complete with a lovely assortment of writing tools (see below) that will no doubt add ceremony and purpose to your works. Also, if you already have your own tools, the case is available on its own without contents for £51. Could be a great gift for a writer friend or family member maybe. (Also, can I just say how many wonderful things Manufactum carries? I get lost on their site every time, adding loads of things to my shopping basket only to remind myself that I shouldn't spend £300 on office supplies and miscellaneous brushes.)

Included:
-four Faber-Castell 9000 H, HB and B pencils
-a pencil holder
-a metal protection cap
-a metal propelling pencil with dual pressure mechanism
-glass tube with 12 lead (and not polymer) refills 0.5 mm dia.
-an adjustable Dux precision pencil sharpener with three replacement blades
-small 10-cm Rumold ruler crafted from pear wood with celluloid markings
-soft eraser.
Additional loops are provided for fountain pens, ballpoint pens, etc.

And here's the case without contents for £51.
Available from
Manufactum
, £91.80.
Tags: Gifts, Gifts $100+