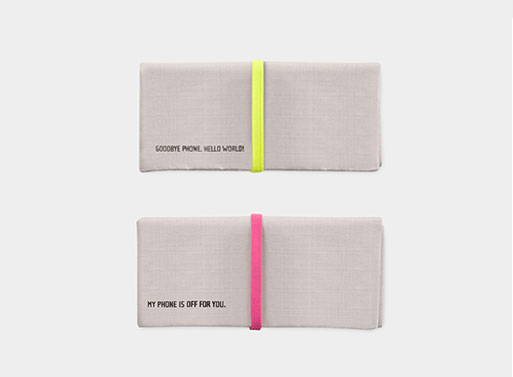 Yes, it did take a while for MoMA to feature New York City in its Destination series, but at least they have now, and we've got a nice selection of home-grown design to consider. You'll see a few things featured here on BLTD, of course, the first of which is the Blokket by The Way We See The World. Blokket is a pouch made of a silver and nylon material that blocks cellular signals. So, if you want to fully dedicate your attention to your dining partner, you can take your phone out of the equation by placing it inside the pouch. You could also just completely turn it off, which is the obvious solution. However, the Blokket also protects against identity theft by
unauthorized RFID readers, which means your slip chipped ID cards and/or passport is safe from prying radio frequencies when inside, especially useful if you might be involved in espionage. Take a look at the whole Destination:NYC series over at the MoMA Store.

Hand wash only, no bleach.
Low iron, hang flat to dry.
Made in the USA.
7.5h x 5.5w x .1″d
Available from
MoMA Store
, 38.00.