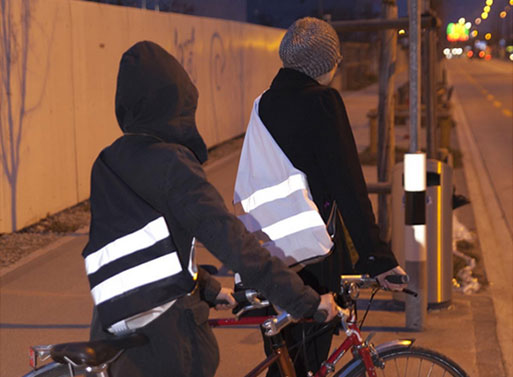 Here's another bag called JetPack, but this design reuses workers' safety vests to make sure you remain visible at night, biking or walking. With a cross-body style, the shoulder strap and two stripes on the back reflect light, giving you an effective 'HEY! I'm here!' visual cue to any vehicles around you. See below for details.


-Packs down small, easy to carry with.
-Simple, durable bag with adjustable shoulder strap, following the original design of the EN471 security vest.
-Interior lining SIZE A3 (32x28x10cm) with integrated pocket (22x18cm) and adjustable D-ring closure.
-Hidden pocket with inlay (26x24cm) generated through overlapping vest.
Outer Skin: 100% polyester
Inlay: silver, coated nylon, waterproof
Shoulder Straps: seatbelt, polyester, 50mm
Buckles + D Rings: stainless steel
Features removable accessory bag with metal fittings / key chain.
price: 140.00 CHF, which is ~$185.83 US dollars.
Available from
Sputnik Zurich
, CHF140.00.