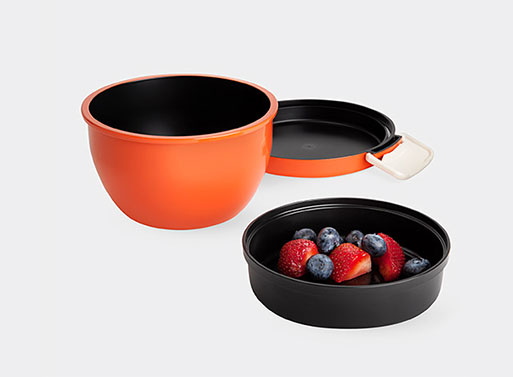 This Bento Bowl won't make your life any better if you never bring your lunch to work. However, if you do, then it stands a fighting chance to make your midday break a little more tidy and enjoyable. Styled after the traditional Japanese bento box, this bowl system is layered and stackable to separate your meal and transport it safely. You'll be delighted when your lunch isn't smushed or mixed with your other snacks or drinks- unless you like disintegrated chips or crushed fruit all over your sandwich. Maybe you'll even get creative with a little bento box art, hmm?

"San-Yoshi products are made of 70% recycled PET and 30% heat-resistant ABS plastic, making them durable, shatter-resistant, and microwave, dishwasher, and freezer-safe."
Made in Japan
Size: 3.7″H X 5.4″W X 5.4″DIAM
Materials: ABS Plastic
Designer: San Yoshi Lacquerware
Available from
MoMA Store
, $18.00.