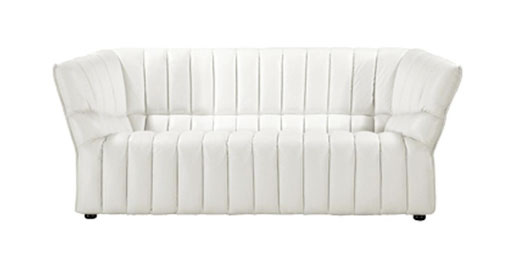 This reminds me of a much more expensive design but I can't quite put my finger on which one. For the price, it's an interesting shape and design, yet sadly it sports a rather unfortunate fabric.
(update: it was the Moel sofa by Ligne Roset that I was thinking of…thanks to Edgar for figuring that out.)
Sink down into this plush off white sofa and you may find yourself languishing in your contemporary living room longer than you ever imagined. The ribbed stitching adds visual interest, texture and an aura of Deco glam. Don't forget the matching chair! Once again, modern design, style and comfort help you create your little bit of heaven on Earth. Padded solid wood frame. Fabric, in easy-care vinyl.
78.5L X 34W X 33H
$1,398.00,
Buy it here.