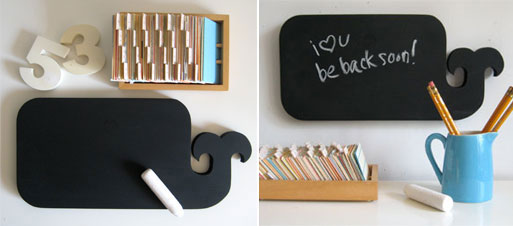 This small chalkboard is the perfect place to leave messages. (Also, the chalk fits into the 'blow hole' on top, pretty cute…)
Super cool painted wood whale chalkboard by dynamic design duo Suddenly It's Real. Chalkboard measures 15.25″l x 7.25″h and has two pre-drilled holes in the back for easy hanging/mounting. One piece of chalk included, which will sit safe and snug inside the pre-drilled "blow"hole in the top of the board.
15.25″ w x 7.25″ h

$40.00, Buy it here.
[via Chow's excellent Gift Guide– check it out.]
Tags: chalkboard