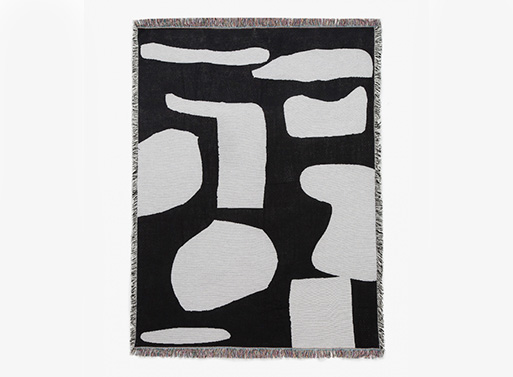 Let's talk throws. They're the sorts of things that keep your legs and feet warm indoors when it's way too cold outside. Make sure you have at least one in your sofa's general vicinity, if not two or three in your household to have near favorite chairs and cozy beds. Slowdown Studio has a generous helping of delightful patterns from different designers that will keep your eyes happy and your toes toasty- you may have a hard time deciding which one is your favorite.

Made from 100% cotton grown, spun and woven in North Carolina.
Shown above: Curtis Throw by German artist Anna Bierler, $220.00.

Richman Throw by Finnish artist Antti Kekki, $220.00.

Mooney Throw by UK artist Daniel Fletcher, $220.00.

Forster Throw by Norwegian artist Espen Friberg, $220.00.
Also available directly from Slowdown Studios.
Available from
Need Supply
, $220.00.
Tags: Gifts, Gifts $100+