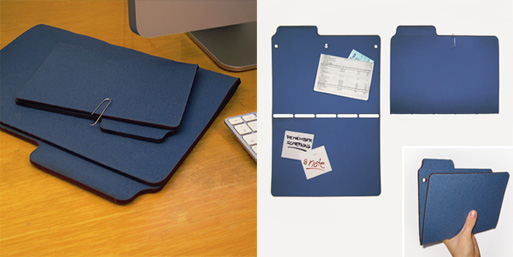 Fold away all those notes and bills at the end of the day with this handy bulletin board (yes, you can use push pins).
When closed The Iconic Folder makes your office or home look more organized, clean and stylish resembling the style of your computer's desktop icons and hiding the papers inside. You can use regular push pins with The Iconic Folder. The Iconic Folder is made of 100% Virgin Merino Wool which is a renewable and environmentally friendly resource. It has a high quality touch and feel and can be dry cleaned if needed.
Iconic Folder Small (9″ x 13½" when open), $89.00,
Buy it here.
Iconic Folder Original (14″ x 21″ when open), $179.00, Buy it here.