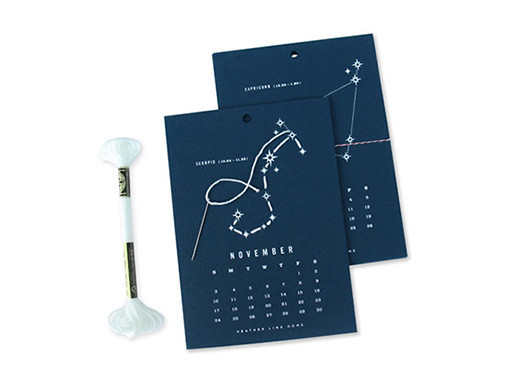 Oh, how to combine your love of stitching and constellations? Well, besides making a version of this Stitched Star Chart, you could add the Stitch the Stars 2013 Calendar by Heather Lins to your wishlist. Each month is shown on a glow-in-the-dark card with glow-in-the-dark embroidery floss so you can stitch to connect the dots of the constellation. The constellation corresponds to the month, fyi.

Designer: Heather Lins, 2012
Printed and assembled in the U.S.
Materials: Recycled card stock, glow-in-the-dark ink, embroidery needle, glow-in-the-dark embroidery floss, instruction sheet, hand-printed muslin bag
Dimensions:
Cards are 5″ wide x 7″ tall
Muslin bag is 8″ wide x 12″ tall
Also available at Branch for $25.
Available from
Heather Lins
, 24.00.