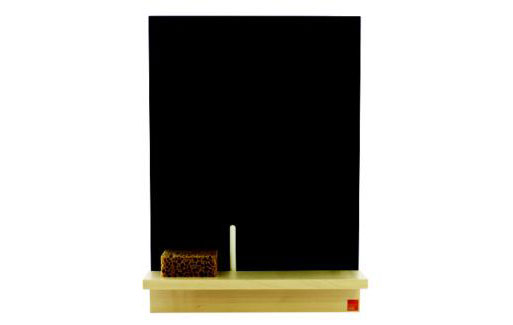 I'd say this blackboard is a good buy not only for the spare & simple design, but also for where your dollars will go.
Challenging the idea that a message board needs to be hidden behind a door, this Blackboard, made by Side by Side, has a quiet presence that is suitable for any kitchen, office or kid's room. In a size that's specifically made for residential and small spaces, this functional design is frameless, which leaves a lot of space to write, and makes erasing easier. Based in Germany, Side by Side is a nonprofit mentoring program that matches a craftsperson with a mentally or physically disabled apprentice to create a team that brings a designer's work to fruition. These workshops are subsidized by various welfare organizations in Germany, so that all profits can go directly to the people handcrafting these products. Side by Side is successfully fulfilling two missions: To create modern, useful objects and to bring a social environment and professionalism to a wider portion of the community.
Painted MDF; lacquered maple; chalk; sponge.
H 20″ W 14.25″ D 3.5″
$110.00, Buy it here.