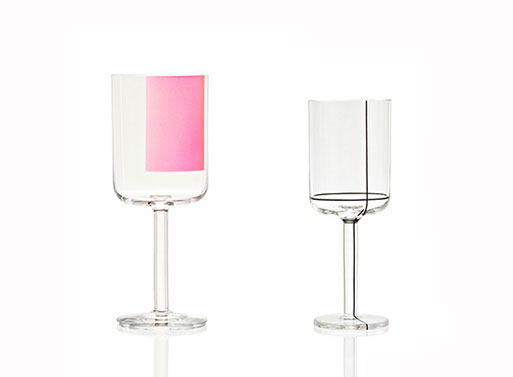 Welcome all, please take your seats. Did you sign in? Do you have a name tag? Good… the Scholten & Baijings' fan club is now in session. First order of business is admiring their new modern, crystal stemware with pinstripes and gradient colors. Fantastic, isn't it? The colors and stripes are hand-applied, hence the cost, and have been noted to cause feelings of extreme distress to those individuals who can't quite afford the whole collection, so please be aware and conduct yourself appropriately.

Red wine: 7.9″ h x 3.3″ d (20.1×8.4cm)
White wine: 7″ h x 2.6″ d (18×6.8cm)
Champagne: 7.4″ h x 2.1″ d (18.9×5.5cm)
DETAILS: Hand washed with non-abrasive cleaning materials
MATERIAL: Crystal glass
Available from
A+R Store
, 36.00.
Tags: Gifts, Gifts $26-$50