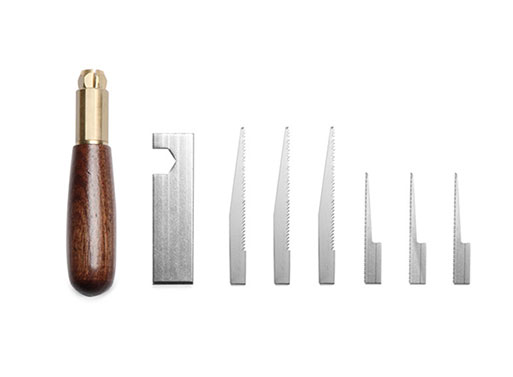 Unless you're an overachieving domestic god/goddess, chances are you don't have specific blades to carve this year's Jack-o'-lanterns. Do yourself a favor and get the right tools for the job, thus avoiding any accidents that could involve real blood spurting out waaay before the special effects are ready.

"Lockjaw allows for six different carbon steel blades to be switched in and out: Three large saw blades and three smaller blades for detail carving. Walnut handle with solid brass fittings. Comes with wrench. Made in upstate New York."
Dimensions: 4.5 inches without blades
Materials: Brass Walnut wood Carbon steel
Made in U.S.A.
Available from Kaufmann Mercantile or Warren Cutlery, $20.99 – $21.95.
Link & price updated; originally posted Oct 8, 2013.
Available from
Kaufmann Mercantile
, $21.95.