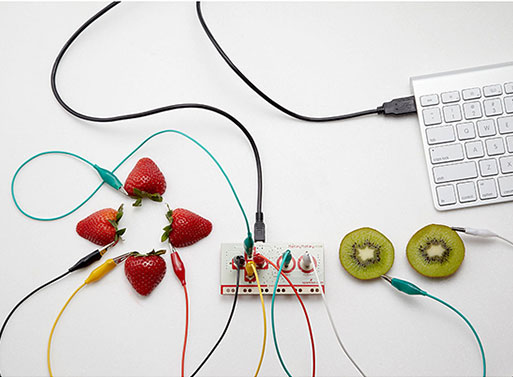 Use fruit for your keyboard! Tech-smart or not, there's fun to be had with this simple circuit board kit. Turn almost anything into touchpads/keyboard/controller by attaching the included alligator clips, then connect to circuit board and computer. Think of it as an invention kit- might be a good way to familiarize yourself or others with electronics. See the video to see how it all works- and what possibilities await you.

Available at Uncommon Goods or directly from MaKey MaKey.
"The MaKey MaKey board requires no special tools, and is simple enough for children to use. But, also built in are additional capabilities – such as expanded keyboard ports and arduino compatibility – allowing users to invent even more elaborate devices as your experience grows."
Age Recommendation: 12+
Materials: wire, circuit board, electrical wiring, alligator clips
Circuit Board: 3.75″ L x 2″ W; In Packaging: 5.87″ L x 3.50″ W x 1.57″ D.
Kit includes: MaKey MaKey circuit board, 7 alligator clips, 6 connector wires, and a USB cord.
Available from
Uncommon Goods
, 50.00.
Tags: Gifts, Gifts $26-$50