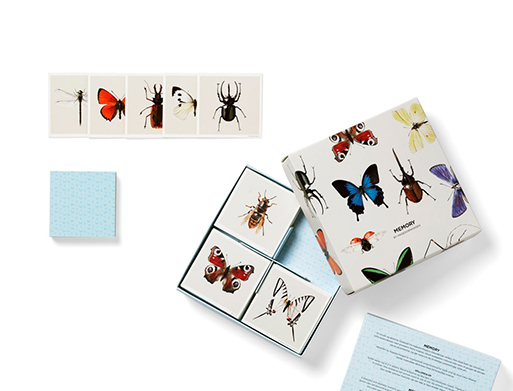 As you're sitting around with friends and/or family, bored senseless, don't just pick up your phone. How about a good game for everyone to play? Let me add these extra requirements: a game for ages 4 and up, and one that won't offend anyone. Do you have one of those? Because a memory game is a friendly sort of activity that just might help those lazy synapses in your brain, and this one has some very pretty illustrations of bugs/insects with their Latin names.


Designed by Hagedornhagen, Denmark.
48 cards with 24 different motifs.
Game is suitable for 2-4 players.
Recommended for ages 4+.
Dimensions: 6 x 6 x 2 in
Updated price and link; originally posted Jun 19, 2015.
Available from
Kontrast
, $22.00.
Tags: Gifts, Gifts $26-$50