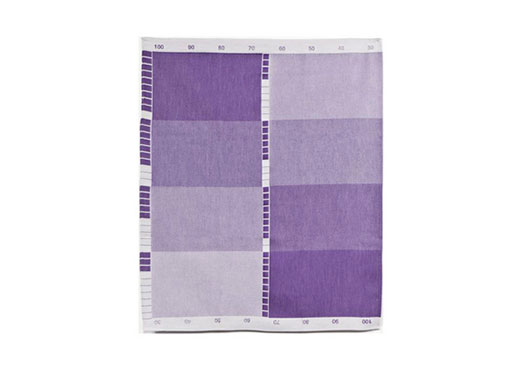 If you're interested in color theory, have I got the tea towels for you. Raw Color has created a series of tea towels that explore concepts from graphic design in woven form. From 10% to 100% intensity, each box of color appears to be printed on as a sort of large scale screen key (those little boxes on the sides of printed fabrics), yet each is expressed by altering the fabric weave. It's the concept of print and traditional weaving combined. There's also the Index Collection Blankets, which are even more impressive because of the larger scale; they're available from Raw Color's website for €375.

Shown above: Index Collection Purple Tea Towel, $40.00
Also available in Beige or Green color collections.
Designer: Raw Color (Designers DANIERA TER HAAR and CHRISTOPH BRACH)
Manufacturer: TextielLab, Tillburg
Country: The Netherlands
Material: Organic Cotton
Dimensions: 22″ x 26.6″, sold individually
Index Collection Green Tea Towels, $40 each.
"This series consists of three different tea towels using 1 to 3 different colors, including purple, purple and green, and purple, green and yellow. Each series follows the same process from Monotone, Duotone, to Multitone."
From our archives; originally posted Sep 17, 2013.
Available from
Cooper Hewitt Shop
, 40.00.
Tags: Gifts, Gifts $26-$50