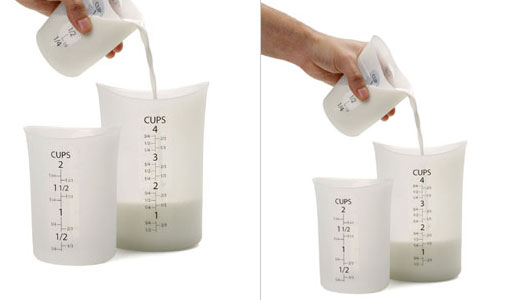 This is an excellent improvement on measuring cups and the price seems entirely reasonable.
Made of translucent silicone, these nested measuring cups allow you to form a spout anywhere along the flexible rims for precise pouring. The textured surfaces provide a secure grip, and two clear measurement windows allow you to view the contents. The large size may also be used as a mixing bowl. Microwave- and dishwasher-safe. Set of three. Capacity: one, two, and four cups.
Designer: Ken LeVan, 2008
Size: Smallest: 4.5h x 2.75″diam; Largest: 6.75h x 4″ diam.
$26.00,
$23.40 Members, Buy it here.