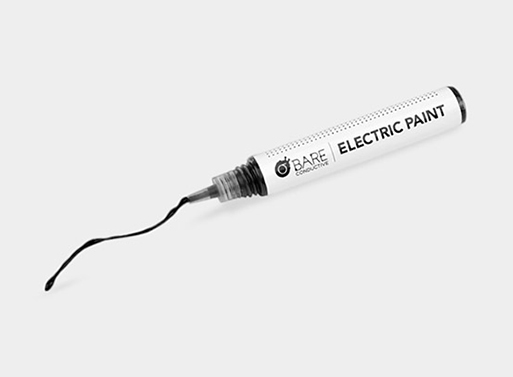 That's right, it's an electric paint pen. It's completely safe, as the electrically conductive paint is formatted to be non-toxic, solvent-free, and water-soluble, and only becomes conductive when dry. And what would you use this pen for? If you're especially handy, you could repair devices, draw circuits on all sorts of materials, solder stuff… you fill in the rest. The paint dries after five minutes and can be removed with soap and water. Oh, and there's an Electric Paint House Kit ($35) if you'd like some paper houses to turn into "an illuminated voltage village." It would be an excellent tool for you (and your kids/nieces/nephews) to learn more about electronics, if you're interested.

Works with: electrical components, prototyping materials, PCBs, microcontrollers (Arduino, Raspberry Pi, MaKey MaKey, LilyPad, FLORA), e-textiles, and conductive thread.
Made in the United Kingdom
Size: 5h x 4.25w x .5″d
Available from
MoMA Store
, 10.00.
Tags: Gifts, Gifts $26-$50