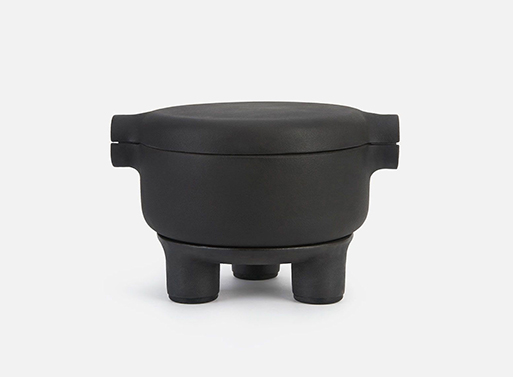 I know next to nothing about cooking, but I sure know a handsome casserole dish when I see one. Made from cast iron (which is very efficient at retaining heat), the dish has a flat base that sits easily on an oven rack or stovetop with a separate stand (and non-slip silicone pads) to raise the dish for tabletop serving. Those of you familiar with the the ancient Chinese tradition of "Ding" will notice that this piece shares some similarities in shape; think of it as a modern update to some of the world's oldest cookware.

By JIA Inc.
Materials: cast iron, Silicone
Dimensions Casserole Dish: 9.75″ L x 7.75″ W x 4.25″ H; 64 oz. capacity
Dimensions Casserole Dish with Stand: 9.75″ L x 7.75″ W x 6.25″ H
Hand wash. Not microwave safe.
Updated price and link; originally posted Nov 24, 2015.
Available from
Gessato
, $240.00.