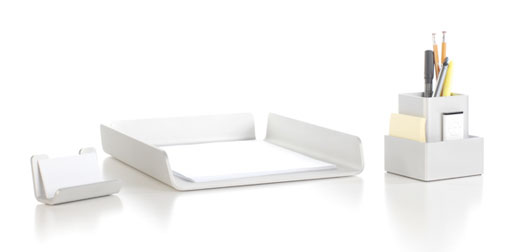 Made to match Macs (say that 10 times fast), this desk set keeps it simple with a nice anodized finish.
The DESKSET is the essential set of desk accessories designed with simplicity and functionality in mind. All pieces are made of thick anodized aluminum with a matte anodized finish and finished off with laser-etched cork on the undersides to reduce sliding. Have a Mac? The DESKSET was originally created to compliment the beauty of the Mac, down to closely matching the anodized finish.
The DESKSET includes:
INBOX fits letter/A4 paper
PENCIL CUP 3″ x 3″ base by 4″ tall
DOODAD CUP 4″ x 4″ base by 2″ tall
BIZ CARD HOLDER
$189.00, Buy it here.