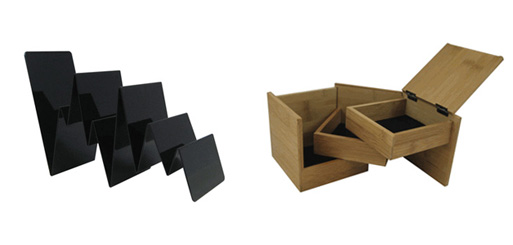 Two organizers that might help you make sense out of your desk disorder:
Black Tabula Rasa Desk Organizer, $45.00, Buy it here.
Tired of the untidy heaps of papers on your desk? Tabula Rasa keeps all of your papers organized, and at the same time is a beautiful object for your table. Made of powder-coated steel. Designed by Adam & Harborth. (5.25″h x 3.6″w x 3″d)
Bamboo Tuck Box, $28.00, Buy it here.
These felt-lined bamboo boxes swivel together to create a cube for easy storage. Designed by Lawrence Chu.
(5″ square)
[posted by katie]