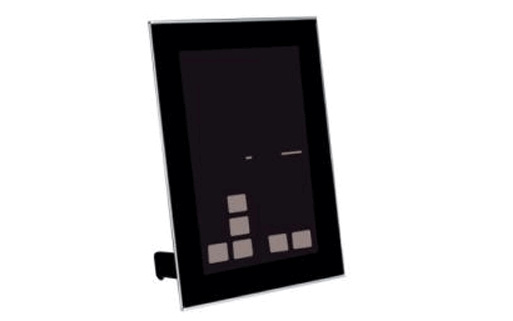 What time is it? 4:20? No, silly, it's actually 1:11pm…maybe. Though this has to be a little bit confusing to read at first, it looks super minimalist and high tech. Do you need that in a clock? Maybe.
Based on a simple, but effective block system arranged in four columns, with each block representing a single unit within its respective hour (split into two columns), minute and seconds columns its arguable that, whilst this device may seem initially to be a rather over-complicated means ascertaining the time, it is arguably rather easier to read than its traditional analogue counterpart. –nexus404
Optical clock Wall or desktop – Liquid crystal display – FTN technology – Time / alarm / date – Glass / ABS
Measurements 8.27″ x 5.83″ x 0.83″
Brieuc Du Roscoat
$90.00, Buy it here.