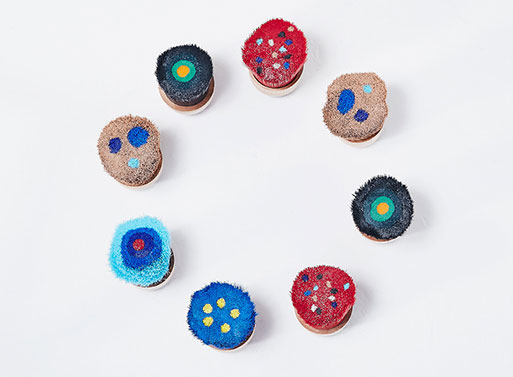 Let's feast our eyes on the Bushel Brushes by Fredericks & Mae. Are they weird and wonderful? Yes. May you use them for practical things like cleaning? Indeed, you may. How about fun things like painting? Yes, though do be sure to clean the brushes very thoroughly afterwards. You could also just keep one or two on your desk for sweeping away dust and crumbs, and that way you'd be justified to keep them out on display all the time just so you could turn them over and admire the dotted colors hidden within the nylon fibers.


"These sculptural brushes are made by bundling nylon fibers and are finished with a hand turned wooden cap. Their functionality is limitless."
Small 4.5″ x 2.75″
Large 9.5″ x 5″
Materials: maple, nylon, rubber
Available from
Fredericks & Mae
, $90.00 +.
Tags: Gifts, Gifts $76-$100