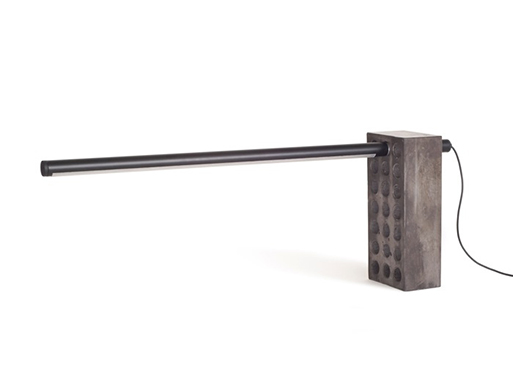 Maybe you're a no-nonsense sort of person, and if so, maybe you'd like the Brick Lamp by Philippe Malouin. It's a task light, that's for sure, but it's reduced down to the bare essentials. The aluminum light rod (with LEDs) may be moved by shifting/poking it through the holes of the concrete "brick" base. Would this fit within the industrial aesthetic arena? Yes, indeed. The Brick Lamp will provide a visual weight (and physical heft) to your work area.


Designer: Philippe Malouin / Umbra Shift
Dimensions: 24″ l x 4.25″ w x 9.25″ h (61x11x23.5cm)
Material: Concrete, aluminum
Available to ship October 31st, 2014
Technical Info:
9W/84 LED array
Light output: 500 lumens
Color temp:3 step 3000k
5.0V USB port
Universal power supply with plug adapter
Available from
A+R Store
, $220.00.