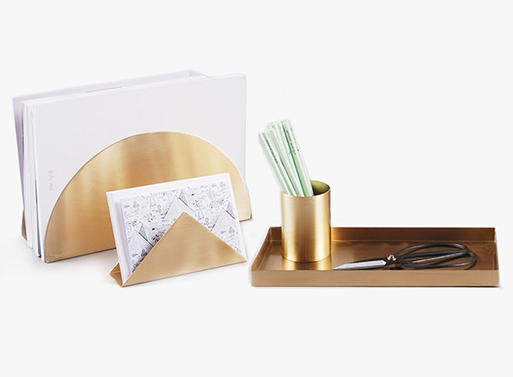 How do you get yourself excited about work now that summer is over? You could think about your fall wardrobe, cooler weather, and the approaching winter holidays, or you could buy some new desk organizers. I vote for the latter, as it brings about less stress. The four-piece Brass Desk Set by Danish designer Trine Andersen (of Ferm Living) might get you to tidy up those odds and ends and make your desk look like it belongs to someone who needs a promotion.


Brass Cup: 2.36″ W x 3.54″ H, $39.00
Brass Triangle Stand: 6.69″ L x 3.35″ W 1.77″ H, $54.00
Brass Tray: 5.90″ W x 11.81″ H, $73.00
Brass Semicircle Stand: 11.81″ L x 5.91″ W x 3.93″ H, $125.00
Material: solid brass with mat polish.
Sold Individually.
Available from Poketo or the Ferm Living Shop.
Available from
Poketo
, 39.00 - 125.00.