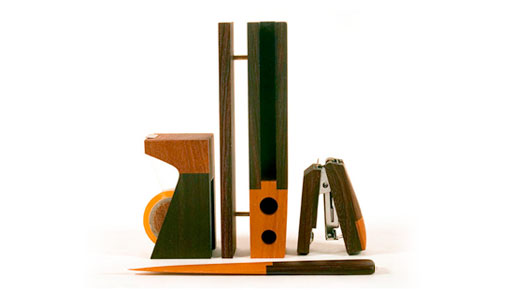 These hand-crafted wood desk accessories will add a little bit more warmth to a work area and perhaps a little bit more pleasure in daily office tasks. (That's just a guess, of course, if you hate your job I doubt a wood stapler will change that.)
Hand-crafted in an Indonesian farming village, this desk set follows the best sustainable practices in terms of materials and production. The designer's use of T-shape joints insures strength and adds a beautiful design detail. It is his quest to achieve functionality and absolute simplicity. The desk set includes four components: a tape dispenser, stapler, envelope opener, and pen/card/envelope holder.
Material: Naturally Harvested Mahogany and Sonokeling Wood
Boxed Dimensions: 6.75 x 5.5 x 2 inches

$75.00 for set, Buy it here.