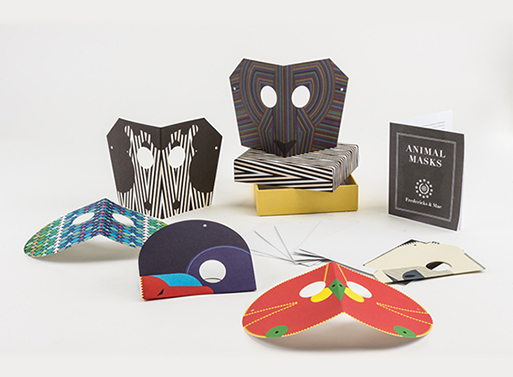 Animal Mask Notecards! Fun, fun, and fun. Each and every recipient of your heartfelt scribblings will get twice the amount of enjoyment from whatever sentiments you share, because they'll have a mask as well. Maybe they'll even attempt to make the appropriate noise for the animal, because if you're going to wear the mask, you've got to pretend to be the animal, right? I think those are the rules.

These notecards transform into animal masks: Zebra, Polar Bear, Baboon, Koi Fish, Panther and Bird of Paradise.
12 Notecards and Envelopes – 6 animals 2 of each.
6.5 x 5.5 x 2 inches
Materials: paper, ink, book board
"The oldest masks that have been discovered are 9,000 years old, but the earliest known anthropomorphic artwork is circa 30,000–40,000 years old."
Available from
Fredericks & Mae
, $16.95.
Tags: Gifts, Gifts $1-$25