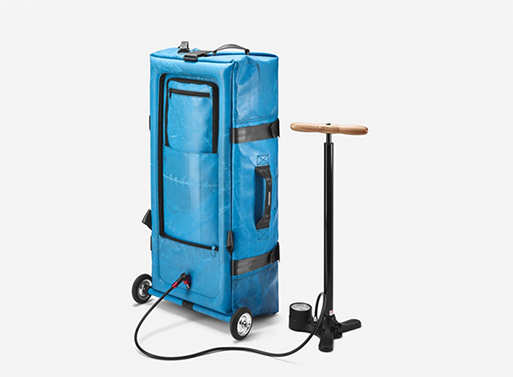 What a smart idea; the Zippelin Travel Bag by FREITAG deflates for storage. Huh? Yep, it uses an inner tube of a bicycle for its frame, so you can just deflate it and roll it all up when you're not traveling. Equally impressive is the material each Zippelan is made from- used truck tarpaulins are washed, cut, and fashioned into each one-of-a-kind, colorful bag, so you'll know exactly which bag is yours when it rolls out in the baggage claim.


– 3.6 KG / 8 LBS
– Water-repellent
– ZIPPELIN can be inflated with a standard bicycle pump.
– "..when deflated, ZIPPELIN takes up no more space in your closet than the two liters of booze you bought at duty-free."
– Removable wheels
Available from
Kickstarter
, €380.00.