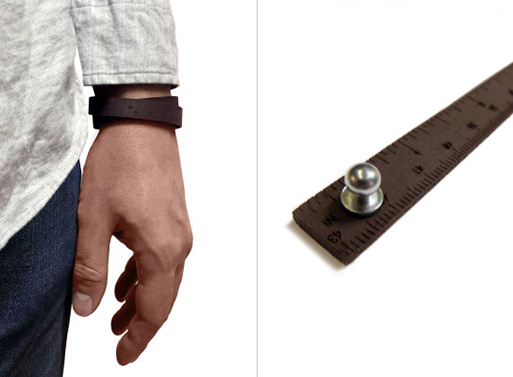 There'd be no more wondering about exact measurements if you had this ruler around your wrist. Sure, a leather wristband is not for everyone, but for those of us that continually carry around a measuring tape, it could be a smart alternative. Inch and centimeter measurements are engraved on the outer surface with a stud closure, so it'd be easy to take it on and off to get a quick read on smaller dimensions. Notice that I said 'smaller' there- it wouldn't be ideal for measuring a long sofa or a room's dimensions*, for example.

Workshop products are made in the US. They are produced in small runs and individually numbered.
*In fact, you'd look like an idiot, so don't do that. Smaller things, yes, use your Wrist Ruler, but for larger things, just stick to the tape measure.
Available from
iLoveHandles
, $19.95.
Tags: Gifts, Gifts $1-$25