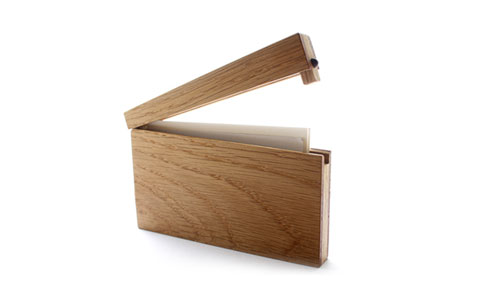 This card case has been back ordered for what seems like forever, but as stock should arrive any day now, you might want to put in your order if you're planning on gifting one. The craftsmanship looks to be impeccable.
Masakage Tanno's father was a talented craftmen from Asahikawa, Hokkaido, Japan. He followed in his fathers footsteps and opened his own wood shop; work studio MIYABI. These gorgeous hand-crafted business card cases are impeccable. Made from Japanese Oak (light), Paduk (red) or Walnut (dark), each case has a magnet embedded in the wood to close them shut. The hinges and detailing are of Kurogaki wood (Japanese Persimmon).
4.25″l x 2.5″h x .5″ d.