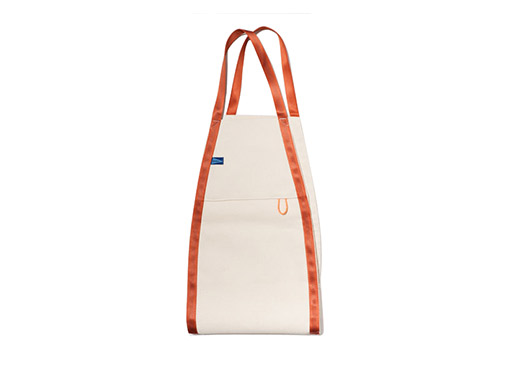 I write 'what is it?' as the title knowing full well that if you're viewing this post on our RSS feed, you'll see the revealing photo first. Sorry. If you don't see the revealing photo, you can play along. So, what is it? Hint: it's not an ironing board cover, nor is it a double layered apron. Also, (this might give it away) some of us wish we could use this everyday… if we lived in the right location and possessed some sort of body coordination, that is.

And, here it is…
It's a Surf Sling for your surf boards! Wasn't that fun. You can also use it to haul portfolio cases or beach chairs, or any other largish/flat things.
Front pocket. Heavyweight cotton canvas with tubular nylon straps.
14.5″ wide 34″ tall.
Designed by BAGGU and Pilgrim Surf & Supply Co.
Made in the USA.
From Plastica, $54.
Available from
Plastica
, 54.00.