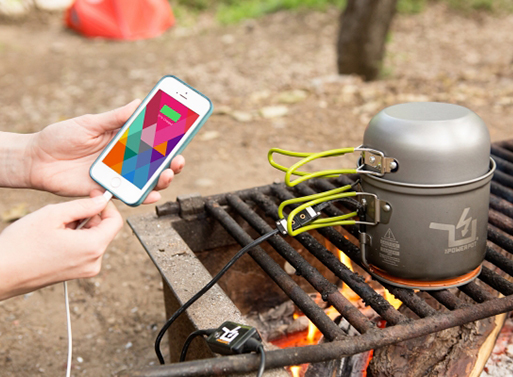 Witchcraft!! That's really the only explanation for a pot on the stove that can charge your phone… unless you believe in thermoelectricity, and then it explains almost everything. Here's a short version: fire + water = power. Here's the longer version: the PowerPot harnesses excess heat while cooking with its encapsulated thermoelectric modules, sends electricity through the flame-resistant composite charging cable and connectors, and then you can plug in your phone to charge it. Maybe you use it at home, maybe you use it on a camping trip. Either way it's a smart option for charging your devices.


Battery Bundle includes: Lithium 1800 Power Pack
Output: USB 5W
Material: Hard Anodized Aluminum
Capacity: 1.4 L (1 Qt)
Weight: 14 oz
Dimensions: 4.5″ x 4.5″
Available from
Power Practical
, $69.99.
Tags: Gifts, Gifts $51-$75