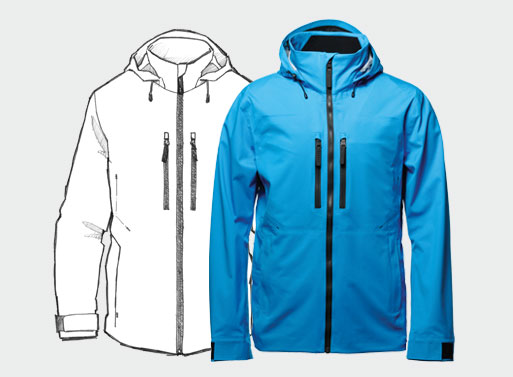 The following post is sponsored by Aether Apparel.
A mix of form and function, the ALTITUDE ski jacket has been designed to combine the highest level of technical performance with a refined aesthetic and tailored fit.
Each winter Jonah Smith and Palmer West, co-founders of Aether Apparel, make a pilgrimage to the Canadian Rockies for a week of CAT skiing at Baldface Lodge. While there they keep a close eye on the different types of gear being worn. They noticed that while many of top-end ski jackets perform phenomenally under the conditions, they left a lot to be desired in terms of fit. Everything was just a little baggy. The jackets were also made from "hard" fabrics that crinkled like wrapping paper in the cold air. After seeing this, Jonah and Palmer decided it was time to make a top-end ski jacket of their own. One that incorporated all the technical features, but one designed with a more refined fit and quieter fabrics.

Back in LA, Jonah and Palmer met with the Aether design team to discuss the jacket's intended use, which prompted an extensive search for the right fabric. This ultimately led them to Schoeller® C_change™. The Swiss-made waterproof fabric was developed to adjust its breathability depending on the conditions. During times of heavy aerobic use, the fabric's membrane opens to allow heat to escape, but during times of inactivity it contracts to maximize heat retention. In addition to being perfectly engineered for the backcountry, C_change™ was also designed to have a uniquely soft hand, which feels and wears more like a natural fabric.
From here, the design team began integrating the features they felt were essential for mountain use: a 3-point adjustable hood that's large enough to fit over a helmet, Napoleon chest pockets that can be accessed while wearing a pack, pit zips with a two-way zipper for adjustable ventilation, and of course, a fully seam sealed construction. They also incorporated a RECCO® reflector into the sleeve, which allows rescue teams to locate the wearer in case of an avalanche.
Then came to the issue of a snow skirt. Jonah felt they were essential for a true deep powder jacket. Palmer felt they rarely worked as designed. So they came to a compromise: an adjustable flat construction snow skirt that could be completely removed via zipper. And to make the snow skirt really work as intended, they integrated it with their Apex snow pants, which use hidden snapping loops to attach the two garments together.
Once all the features were in place they moved on to the Altitude's fit. They designed it with enough room to layer underneath, while maintaining an overall tailored fit. Mindfully of the specific ergonomics required in mountain sports, they sculpted the shoulders and elbows to allow for maximum flexibility. By focusing on these specific areas, they were able to keep the jacket's slim fit without sacrificing freedom of movement.
After receiving the first Altitude prototypes from the factory, Jonah and Palmer were eager to put them to the test back where they were originally conceived: Baldface. Out on the powdered slopes, the jackets performed admirably, holding up to the conditions and braving the waist deep snow just as designed. They also turned a few heads in the lodge, which of course, was the real test all along.
Available from
Aether Apparel
, 675.00.