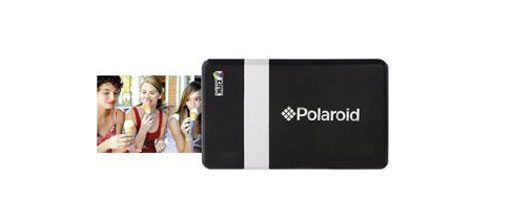 I'm extremely curious about the printed picture quality on this mobile printer. Weighing in at 8 ounces, with dimensions around 5″x3″x1″, it looks like a great gadget to have on hand if you're a picture-taker type of person.
* Portable photo printer delivers full-bleed borderless images that are dry to the touch
* Features automatic image quality optimization with water-resistant, tear-proof, smudge-proof and peel-off prints
* Prints 2 x 3-inch borderless color images in under a minute
* Wireless-capable Bluetooth hard drive interface; USB 2.0 hard drive interface
* For use with digital cameras and select cell phones
4.7 x 2.8 x 0.9 inches ; 8 ounces

$94.95-$198.99, Buy it here.
[via mightygoods]
[posted by katie]
Tags: Gifts, Gifts $100+, Polaroid