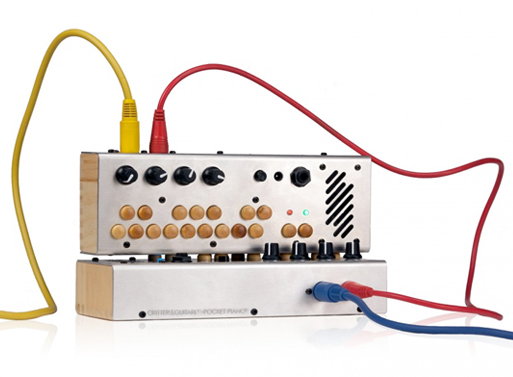 If you're on the go and don't want to put up with an iPhone-based synthesizer, or perhaps you're an ultralight musician, the Pocket Piano from Critter & Guitari just might be your fix. A handmade pocket synthesizer that packs a vibrato synth, harmonic sweeper, two-octave arpeggiator, octave cascade, mono FM synth, and FM arpeggiator is housed in a sturdy aluminum and hardwood case with built in speaker and a 1/4" output jack. Round wooden keys give it a unique and tactile playing experience. Describing it in words isn't exactly doing it justice, so I highly advise watching this accompanying video to see and hear some of crazy noise making abilities of this miniature machine.

For those muscially and technically inclined, please see the offical website for specifications and details. The Pocket Piano is also available with MIDI to sync with drum machines, sequencers, computers, synthesizers, as well as other Pocket Piano MIDIs. Bleep bleep bloop bloop fuzzzz…….
critterandguitari.com
, 175.00.
Tags: Gifts, Gifts $100+