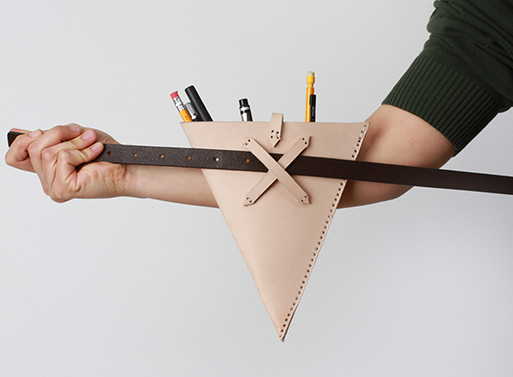 I think it's safe to say that most holsters are generally unfit for the discerning eye, especially when paired with a phone, as was popular when mobiles first became popular. Now, if you're wearing a holster for tools, as in actual tools for a job or craft, it's entirely forgivable, especially if it looks anything like this Pennant Belt Holster. It's just strange enough to be interesting, and, of course, looks quite convenient for holding the tools you need immediately at hand.

7″ tall x 5″ top width.
Unlined, undyed veg-tan leather with white waxed Irish linen thread.
Made to order and stitched by hand — 1 week lead time not including delivery time.
Made in USA.
Available from
Scarr
, $60.00.
Tags: Gifts, Gifts $51-$75