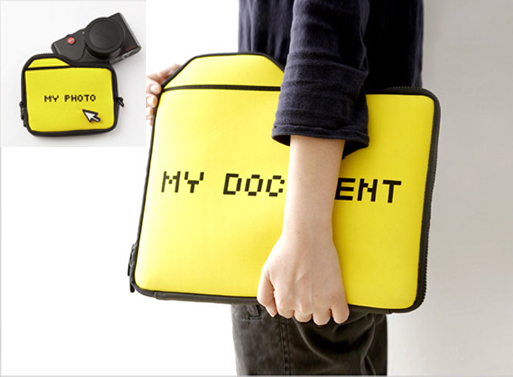 From our archives (originally published August 26, 2008), for your gift list consideration… to see more, visit our Gift Guide.
Just the thing to keep your laptop and camera safe…
color: yellow (pantone 128)
materials: neoprene case with zipper
each case comes with one random icon badge (arrow, hand or timer)

'my document' laptop case, $30.00 (+$12.00 shipping),
Buy it here.
13.3 inch (L 330mm W 280mm D 25mm)
14.1 inch (L 345mm W 300mm D 25mm)
15.4 inch (L 380mm W 325mm D 25mm)

'my photo' camera case, $22.00 (+$8.00 shipping), Buy it here.
size: L 115mm W 95mm D 18mm
Tags: Gifts, Gifts $26-$50, laptop stuff