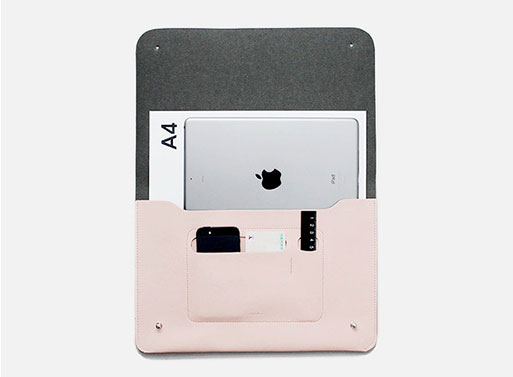 Well, isn't this a nice surprise. It's a Minimalist Folio that costs under $50. The fact that it's made from polyurethane could be good or bad, depending on your aversion or preference to leather, but I think we'll all agree that this kind of price point is very welcome. The medium size easily holds a tablet and notebook, while the large will fit a 13″ laptop. A small pouch holds the smaller essentials and two peg-in-hole fastenings keep the coverlet closed. Choose between Blush, Navy and Pewter.

Made in South Korea.
Polyurethane.
Medium, $38.00: 9" (23cm) H x 13" (33cm) W. Fits up to 11″ Macbook Air and most tablets.
Large, $48.00: 10" (25cm) H x 15" (38cm) W, fits up to 13" laptop.
Available from
Poketo
, $48.00.
Tags: Gifts, Gifts $26-$50