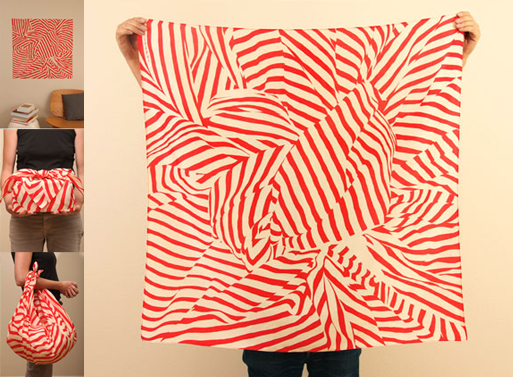 Furoshiki, which you might be familiar with, are a type of traditional Japanese wrapping cloths that can be used for all sorts of things. This particular print seems particularly eye catching with its graphic red/white design, and while you could use it for wrapping a gift (or a wall hanging, or as a scarf, etc.) it seems like it would be a great gift all on its own.
Also, I found this site called Furoshiki.com which seem to specialize in the subject… the Animals White ($34) is a nice one, also Palace ($42).


Available in two prints:
LINK x Lucinda Newton-Dunn – Red/White – 100% cotton satin.
LINK x Hennie Haworth – Black/White – 100% Cotton Chirimen (Japanese crepe cloth, textured heavier weight, shown below)
Available from
PLASTICA
, 70.00.
Tags: Gifts, Gifts $51-$75